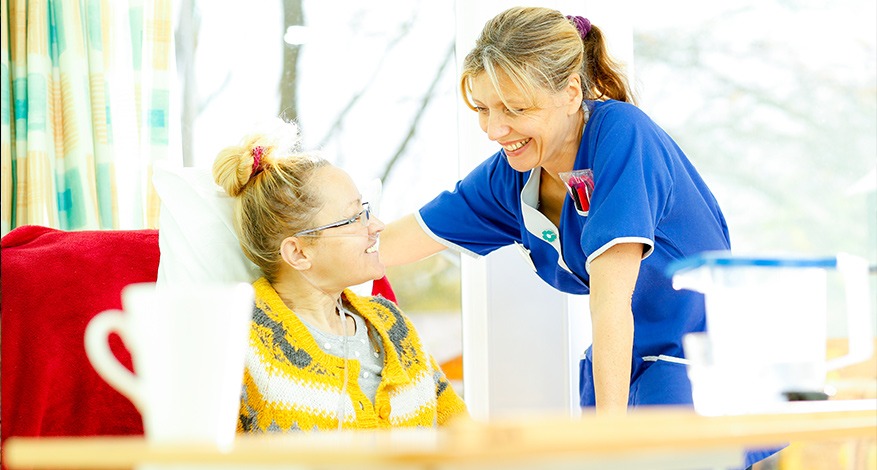 Care
Heart of Kent Hospice
Specialist beds and chairs offer comfort and safety to those approaching end of life.
Heart of Kent Hospice cares for those who are reaching the end of life. It opened in 1991 after dedicated local people raised funds to build a hospice for residents of Maidstone, Tonbridge, Malling and surrounding village areas.
The Axis Foundation has made donations which have bought specialist beds and chairs to give comfort and support to the 800+ patients  who use the Hospice each year.
In 2016 the Foundation awarded a donation of £12,243 to buy specialist beds for the In-Patient Care unit here.
Vicki Morrey, Heart of Kent Hospice's Chief Executive, told the Foundation: "Your wonderful contribution has made a real difference to the patients and their families who receive our care at the hospice.

"Each of our ten bedrooms now has a new Enterprise 8000 bed. Our patient Alan said: 'It's very comfortable… it's great to be able to adjust the controls myself.' The nursing staff have also responded very positively to the new beds because they have helped improved the care they can offer.

"The controls are easy to operate by both patients and staff and the transition between positions is comfortable.

"The beds will enable us to care for over 220 patients every year and we anticipate they will continue to meet the needs of our patients for at least five years."
Earlier donation
In 2015 the Axis Foundation awarded £3,788 to Heart of Kent Hospice to buy new supporting chairs for their Garden Room. This is a calm and comfortable place where patients and visitors relax looking at the peaceful Hospice garden. However, it had not been updated for some years and the furniture was broken and worn.
"Heart of Kent Hospice is delighted to have been able to purchase new chairs in our Garden Room. Our patients can now benefit from the highest levels of comfort and safety with these beautifully designed chairs.

"Our Garden Room is a lovely quiet space away from the noise and bustle of the rest of the Hospice and is appreciated by all our visitors who use it for spiritual reflection, reading or just some quite time alone or with loved ones.

"We are deeply grateful to the Axis Foundation for making this possible and we offer you a huge thank you." Sarah Pugh, Chief Executive of Heart of Kent Hospice.