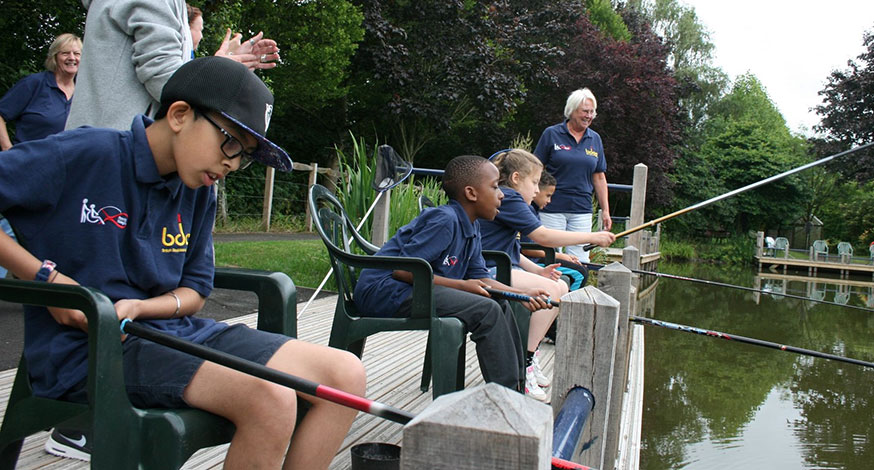 Donations
British Disabled Angling Association
Funding Junior Schools Fishing Project
The British Disabled Angling Association (BDAA) offers fishing opportunities for disabled children, young people and adults across the Midlands.
The donation of £3,300 from the Axis Foundation will help them develop their BDAA Junior Schools Fishing Project This is the first scheme of its kind in the UK and introduces children to fishing as an alternative outdoor activity. The Project will help hundreds of disabled children and young people.
BDAA founder Terry Moseley said: "The Junior school's disability project has been a long-time milestone for the BDAA. Having such great support and generosity from the Axis Foundation has made this ambition a reality. Hundreds of children, teachers and families have benefited directly from this pilot project and we hope they will continue enjoying fishing in adult life. The funding has provided essential training for teachers and volunteers, as well as clothing, adaptive fishing equipment, transport costs and independence for the students. They now have an additional skill they never knew they could achieve through fishing."
More About BDAA
Fishing is a fantastic way to experience the outdoors because it is a quiet, calming sport. Learning how to fish empowers children and provides them with a new hobby to enjoy with friends and family and the group engagement particularly benefits children with physical, learning, and sensory disabilities and terminal illness. By working with SEN Schools, the BDAA hopes fishing clubs can become part of academic structures in the future. To find out more, visit https://bdaa.co.uk/.
 Harry Bowen, from Penn Hall School fishing club, commented: "I love to be outside. I can now hold a rod all by myself and have also learned how to be a good fisherman. I like to go fishing with my friends, and I think I will be a really good fisherman when I'm bigger."
Our second donation in 2020 to BDAA funded an accessible platform so that disabled people can reach the water and enjoy fishing safely. More here